By Jeff Simpson
For some reason, someone felt it was a good idea to talk to Senator Steve nASS(R-Doesnt pay child support) about a new diversity outreach program at UW-Madison.
MADISON, Wis. (AP) — A Republican state senator says a new diversity outreach program at the University of Wisconsin-Madison is "sinister."
Sen. Steve Nass made the comments Thursday in reaction to UW announcing its plans to improve the experiences of minorities. The plan calls for having new students discuss social differences, a new cultural center for black students and increased opportunities to take ethnic studies courses.
Nass says university leaders "constantly complain about lacking money" but "they never lack money for advancing new and more sinister ways of liberal indoctrination of students.
Of course what is more sinister of liberals, than trying to reach out to people of different races, religions and backgrounds? Especially when, as our friends at Political Heat point out, there are dire consequences for not reaching out:
Years ago,

business leaders DID want a more diverse-friendly college campus

in Madison. And when it was evident that was not what they were getting at UW, recruiters from major American companies were pulled from the university. From

Pat Schneider of the Cap Times

(Emphasis in bold added by me):
Diversity is good for business, which makes it an imperative for U.S. business schools, say Wisconsin School of Business administrators.
If the business school community does not have a mix of students, faculty and staff that can prepare students for a global economy, students will go somewhere else and so will business recruiters.
That has already happened at UW-Madison. A decade ago, big corporations like Procter & Gamble, General Motors and Alcoa stopped recruiting in Madison because of a lack of diversity among business school students.
That is one way to stop the brain drain of Wisconsin students, make sure no one outside of Wisconsin will want to hire them.
Of course since Wisconsin is already the worst state in the nation for African Americans, there is no incentive for us to have a diverse workforce or college student body.
Let's not forget, it was career politician Steve nASS who famously said:
It is always entertaining when people who do not understand business, lecture the rest of us who do on what needs to be done.
Steve nASS is also a career politician, whose one signature bill that earned him a promotion within the WISGOP, was to make sure that communities could discriminate against Native Americans.
Now Charlie Sykes is going to pretend he has no idea that racism is running rampant on the right? From the recent puff piece written in Politico about him:
"No, I'm saying, they're talking about phasing out the breed because so many are bad. No one wants to phase out poodles! I mean, there's no Lutherans doing this! We never know when one of these people are going to be radicalized."

"One of

these people

," says Sykes.

Sykes ends the call. He's silent, broadcasting dead air. He looks upset, like he's stopped breathing. He goes to a commercial break.

"OK, that doesn't happen very often," he says off-air. "I'm not usually absolutely speechless." He says his listeners never talked like this until recently.

"Were these people that we actually thought were our allies?" he asks.
On Tuesday, (Paul)Ryan rolled out endorsements from all 16 Republican state legislators who represent portions of the 1st Congressional District.
The endorsers include Assembly Speaker Robin Vos of Rochester and four state senators, Steve Nass of Whitewater, Chris Kapenga of Delafield, Mary Lazich of New Berlin and Van Wanggard of Racine.
In a statement, Nass said that he has known Ryan since the early 1990s and during that time the Janesville native's values, principles and integrity 'have not changed and they never will.'
So much for the Alt-right... As John Nichols has pointed out: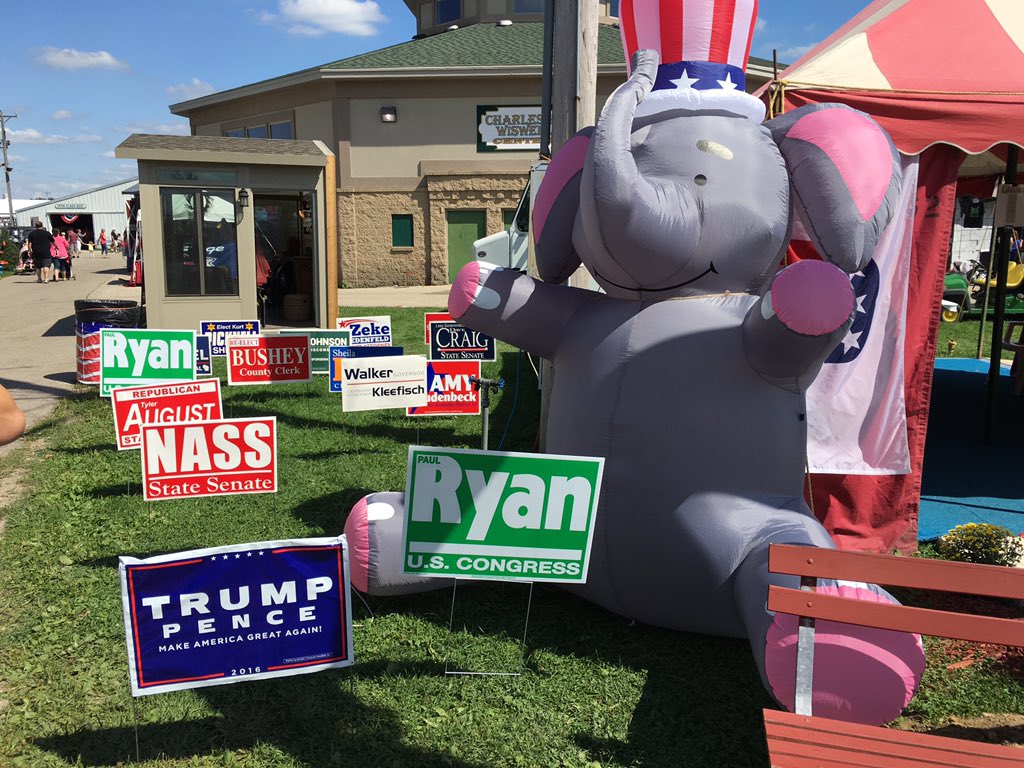 In Paul Ryan's WI district, the Trump-Ryan message is amplified by local Republicans. No degrees of separation.

pic.twitter.com/UumlZ7dQqC

— John Nichols (@NicholsUprising) September 3, 2016
So when you hear talk of the "alt-right" just remember there is no difference between them and the regular WISGOP, except they have been empowered to speak their mind in public instead of in private. The Ironic thing is the same people who are trying to run away and wash their hands of them, are the people who were the ones who empowered them!