By Jeff Simpson
The old Charlton Heston Quote, that everyone who is a tool of the NRA loves to quote:
Now the new saying should read "
From my cold dead hands, as I stand over the dead bodies of my two daughters I just murdered."
Police say a Houston-area woman fatally shot her two adult daughters before officers shot and killed her.
The incident happened about 5 p.m. Friday in front of a home on the fringe of the Houston suburb of Fulshear. Fort Bend County Sheriff Troy Nehls says a motive was still under investigation, but it appeared the shooting was the climax to a family argument.
Nehls says the daughters had already been shot when a Fulshear police officer arrived and saw the mother with a gun in her hand, apparently preparing to shoot one of her daughters again. The officer shot and killed the woman.
Officials identified the mother as Christy Sheats, 42, and her daughters as Taylor Sheats, 22, and Madison Sheats, 17, CBS affiliate KHOU reported.
What makes this different, than your average daily shooting? The answer is not much but there is a disturbing trend of crazy shooters.
As Christy let it be known, the damm liberals are out to take her guns and keep her from "protecting" her family.
Her daughter Taylor, on April 28, wrote this post:
Casual reminder that I do support the Second Amendment but this is just some food for thought
💭
Perhaps some foreshadowing
of knowing her mother did not need to have so many guns?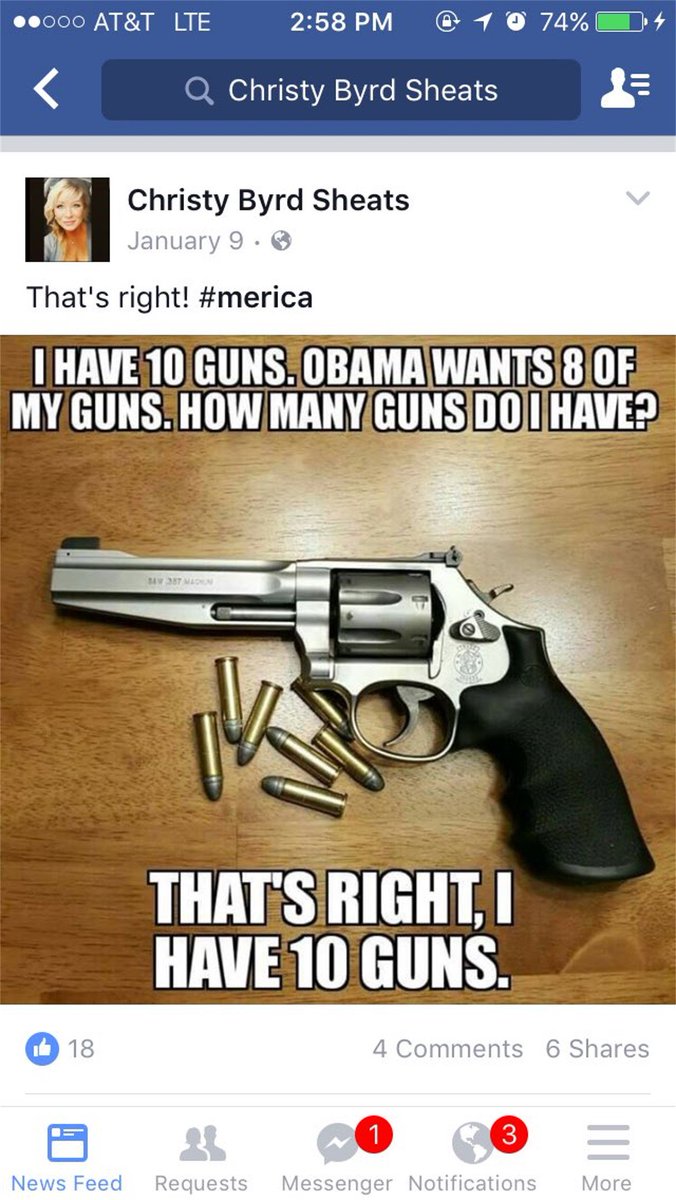 New details of the story come out that Ms.
Sheats has had some history of mental illness
, so maybe some liberal should have come and taken her guns!
The Texas woman

who killed her two daughters on Friday

, before being shot and killed by police herself, allegedly had a history of mental illness, officials say. And she had posted multiple times on social media about her support of firearms.




The Fort Bend County Sheriff's Office had been to Christy Sheats' home "for previous altercations" involving Sheats' "mental crisis," sheriff's spokeswoman Caitilin Espinosa tells PEOPLE.
Since the NRA likes to take advantage of such tragedies to sell more guns, I am curious which kind they are going to be selling now? the gun that Ms Sheats used to murder her daughters, or the one the police officer used to make her stop shooting her dead daughters?
At least when Ms. Sheats says
"Out of my cold dead hands"
she means it!
Next time you hear a pundit, politician,three letter terrorist organization, or random person telling you that "Obama is coming for your guns", I highly recommend walkings lowly away and taking cover - FAST!