By Jeff Simpson
Assemblyman
Mandela Barnes has announced he plans on challenging Senator Lena Taylor
for the Senate seat she currently holds in the Democratic primary!
This caused the Democratic Party to cut off Mr. Barnes access to the key voter access file due to a policy they have of not allowing challengers of incumbents access
.
Democratic Party of Wisconsin rules ban candidates who are challenging an incumbent Democrat from using the party's Voter Activation Network, or VAN. The system provides insights about individual voters and allows candidates to target their messages.
Barnes' contract to use the VAN should've ended when he announced in April his bid to challenge Taylor in the Fourth state Senate district, party chairwoman Martha Laning said.
"The key here as the chair of the Democratic Party is that we consistently apply any rules or policies that we may have," Laning said in a phone interview.
The policy in question is here:
The Democratic Party of Wisconsin's
bylaws
outlines the policy we follow for voter file sales. Under Article 1, Section 6(f)



The Wisconsin voter file which is administered

by

the Democratic Party of Wisconsin (DPW) will be made available to all the following individuals/groups in good standing with the DPW and legislative caucuses: all incumbent Democratic Party officeholders, Democratic nominees for public office, Democratic legislative campaign committees, and county, local unit, and Congressional District affiliates of the Democratic Party of Wisconsin...All other requests made

by

individuals, candidates, groups, organizations, or political committees not specified above, must be approved

by

the State Chair, subject to review

by

the Executive Committee. All appeals for reversals or exceptions are subject to review

by

the Executive Committee of the Democratic Party of Wisconsin. The Wisconsin voter file and other Democratic Party list access fees will be determined

by

the Executive Committee established fair market value, as required

by

state regulation.
Ok I understand that they have a policy, although I believe that anyone running on the Dem ticket should be allowed access to it. I also think that sometimes we rely on it too much and ignore people we do not think are "voters". However that is just my opinion and the party feels differently and that is their call.
HOWEVER, there needs to be a new rule enacted immediately. I would call it
the Scott Jensen rule.
When you decide to team up with the horrible Scott Jensen and his American Federation for Children (AFC) you immediately lose all standing within the Democratic Party structure.
AFC and Scott Jensen are doing Push/Polls for Lena Taylor.
For those who are not aware of who Scott Jensen is, he is a former Asemblyman who was convicted of felonies in the Capitol Scandal until he was able to get a law passed allowing him to take his case to Brad Schimel who refuses to protect fellow GOP members regardless of the crimes. Schimel decided that his punishment, instead of prison where he belongs, should be that he can not run for Governor. Which is laughable because he could not pass a background test to substitute in your local school, so I do not think he would have ever sat in the Governors chair.
If you need more of the Jensen resume here is a sampling .... Jensen has
never been honest about his intentions in the public eye
, he i
s paid $400,000/yr plus to privatize our public educational system
and spents
tens of thousands of dollars smearing Mandy Wright with blatant lies in her assembly seat
that she lost by 80 votes. That is just a sampling.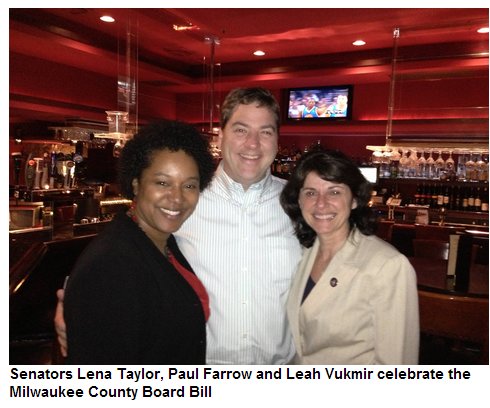 Lena also has a history of working with AFC.
Let's not be on the same side as Scott Jensen a day longer and reverse this decision, immediately!
As for Mandela Barnes, he was recently named one of the top pro-growth progressives in the nation
.