Scott Walker came into office with a record and it was NOT a good one.
When Scott Walker was Milwaukee County Executive, a parking structure collapsed on Jared Kellner, killing him in front of his family.
Scott Walker could have taken the road less traveled and realized that our infrastructure is crumbling and worked to fix it. Instead, he chose the Scott Walker way - he put his campaign staff in charge of the county government to make sure this child's death did not affect him politically.
The voters then gave Mr. Walker a promotion to Governor, somehow not expecting him to bring the same incompetence he brought to Milwaukee County statewide.
Since Scott Walker has been in office, our infrastructure has been deteriorating. Our roads are now ranked third-worst in the nation in terms of quality.
Wisconsin's roads are the third-worst in the nation and the potholes and other problems that plague them cost drivers in some cities almost twice the national average in repairs and associated costs, according to a new study of the state's highway system.
Wisconsin drivers are paying TWICE the national average in car repairs thanks to our crumbking infrastructure!
Poor roads in the Milwaukee area cost drivers $700 a year in extra vehicle repairs, according to the study; in the Madison area, road conditions cost drivers an additional $615 in annual tire wear, maintenance and accelerated deterioration. Nationally, substandard road conditions cost drivers an average of $377 per year, the study found.
For those of you scoring at home, that is not your normal wear and tear on your car costs, that is over and above those costs. Thank Goodness, Scott Walker's saved us $3 over the last two years.
Scott Walker being the thinker that he is, has a plan to deal with our crumbling infrastructure - Do Nothing.
Madison

— Wisconsin's roads likely will face longer delays before they get repaired because of an ongoing funding dispute in the state Capitol.

Gov. Scott Walker told reporters Thursday he would not support increasing taxes or fees to pay for highways unless corresponding cuts are made elsewhere in the state budget. He also said he didn't want to rely too much on borrowing for roads — something his fellow Republicans who control the Legislature already are reluctant to do.
What kind of strategy is do nothing? well its worked for Mr. Walker his whole career so I hope no one is surprised.
BUT WAIT, there is more! There is always more.
As if Scott Walker and the GOP were not showing their incompetence enough, they put through the last budget with $0 for capital repairs. In prior years, they had $100 Million dollars for

major maintenance, repairs and renovations to campus buildings, utilities and related infrastructure.



To give you a quick overview of the UW System:
The University of Wisconsin System is one of the largest systems of public higher education in the country, serving approximately 180,000 students each year and employing more than 40,000 faculty and staff statewide.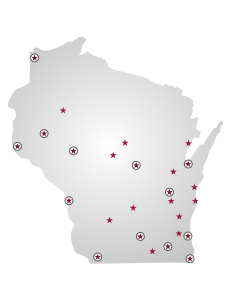 The UW System is made up of 13 four-year universities, 13 freshman-sophomore UW Colleges campuses, and statewide UW-Extension. Together, these institutions are a tremendous academic, cultural, and economic resource for Wisconsin, the nation, and the world.
UW System at a Glance
Enrollment: Approximately 180,000
Institutions: 13 four-year universities, 13 freshman-sophomore UW Colleges campuses, Statewide UW-Extension
Annual Budget: $6 billion
State Funding: $1.2 billion
Gifts, Grants and Contracts: $1.5 billion
Economic Impact: $15+ billion annually
Degrees Awarded: More than 36,000 annually
A world class university system that was founded in 1848, which consists of 26 differemt campuses and 1900 buildings, needs no imrpovememts or projects done 168 years later? To make matters worse, this was in the biennium budget so the $0 was for two years!
Looking at just one campus — UW-Oshkosh — gives a glimpse into the wider challenges faced across the system:

■ The Buckstaff Planetarium has been shut down for two years because it needs $966,000 in infrastructure and interior renovations to resolve asbestos issues. The asbestos-laden insulation sprayed on the planetarium's dome began to become brittle and fall down. Classes had to be moved.

■ Multiple buildings constructed before current Americans with Disabilities Act requirements were put in place need renovation to enhance accessibility.

■ Three buildings have roofs that need to be replaced.

■ A small elevator installed in the late 1960s in the Kolf Physical Education building needs to be replaced; it has broken down during basketball games and trapped fans inside.

"As we continue to push these projects down the road, they become more and more expensive, and the list will continue to grow," said Lori Worm, vice chancellor for administrative services at UW-Oshkosh.

The school did allocate $250,000 this biennium for a system that would recover wasted heat from a campus bio-generator and use it to heat the Student Services Center. That money was diverted from academic uses.
No wonder Mr. Walker sold his house, and took a bath on it, He has no idea what happens to buildings or what needs to be fixed. That comes from never holding a real job in his life. That and the fact that he likes to run up bills and not pay for them, led him to be the worst possible Governor for one of the most successful Universities in the world.
We now know why Scott Walker was not chosen to be Donald Trump's running mate! Scott Walker could not even build a fence on his own, so he had no chance of building a wall between the USA and Mexico.
Plus, Scott Walker was much more interested in walling off Canada, than Mexico!