By Jeff Simpson
If you have been following Wisconsin's news lately,
you might have heard about the Lincoln Hills School and Juvenile Prison
.
In the past two months alone at the prison, two teenage girls hanged themselves to the point of losing consciousness, a staff member allegedly pepper-sprayed two juvenile inmates who were complying with orders, and a staff member allegedly battered another staff member, according to 258 pages of documents released to the Milwaukee Journal Sentinel under the open records law.
Those recent incidents came after a year of warnings about Lincoln Hills to state Department of Corrections officials from a variety of sources, including Milwaukee County officials, union leaders and state Rep. Mary Czaja (R-Irma).
Madison— Gov. Scott Walker's office was told multiple times over the past year about problems at a troubled juvenile prison in northern Wisconsin, including claims of violence against youths and staff, inadequate classroom time, and the need to improve sexual assault safeguards, documents show.
Since dozens of agents this month raided the shared Northwoods campus of Lincoln Hills School for Boys and Copper Lake School for Girls, the Republican governor has said that he ordered immediate actions after being briefed on the alleged abuses just days before the raid.
But Walker's office had much earlier warnings about, and opportunities to act on, problems at the prison 30 miles north of Wausau, new documents show. The records were released Thursday to the Milwaukee Journal Sentinel under the state's open records law.
Scott Walker, in typical Scott Walker trademarked fashion, he faced up to the problem and took responsibility for his mistakes, I mean he told us it was not his fault.
Last month, an incident at the prison led to a juvenile having toes amputated and brought down dozens of state and federal agents to the prison 30 miles north of Wausau.
"So the Department of Justice and the Sheriff's Department all looked into it and it wasn't until recently that they brought those concerns to our attention as to just how serious they thought (it was.) Just because someone sends a letter or an email doesn't mean that it's serious....The bottom line is I don't go through piece of every constituent mail, I don't go through every email. I get thousands of those," Walker said Friday.
The newly released records show that in fall 2014, Milwaukee County officials raised concerns about Lincoln Hills youths having inadequate classroom time and allegations of youths having arms broken by staffers.
So let's take a peak at Scott Walker's claim that he was too busy to go through his emails.
Let's look at July 28, 2015(I am sure you would find similar results if you picked similar days he received emails asking for help):
"You have staff who are being assaulted, youth who are being assaulted, doors being broken, windows broken. What has to happen, does the sheriff's department or state police need to get involved when the staff at Lincoln Hills (lose) that institution?" McCarthy wrote on July 28.
Someone with intimate knowledge of the insitution emailed the people in charge and said that the safety of public workers, including his daughter was in question and he feared for them being assaulted or worse.
PHILADELPHIA (AP) —

The governor of the nation's top cheese-producing state visited the capital of cheesesteaks on Tuesday and ordered two topped with American, skipping the customary Cheez Whiz but avoiding the blunder of a former presidential candidate who was ridiculed for wanting his with Swiss.

Wisconsin Gov. Scott Walker told Geno's Steaks owner Geno Vento he's had cheesesteaks with Cheez Whiz in Philadelphia before and would have been dripping the orange goo if he ordered his the usual way.

"That'd be your trademark," Vento, the son of Geno's founder Joey Vento, joked as Walker signed a book filled with autographs of other dignitaries and celebrities who have indulged in the Philly delicacy.

Walker ordered one each from Geno's and rival Pat's King of Steaks, across the street, during a brief campaign swing through the City of Brotherly Love. He's one of 16 Republicans vying for the party's presidential nomination and, true to political form, wouldn't say which cheesesteak was better.
The sad thing is, when Scott Walker ordered his cheesesteak, he was chastised for a Faux Paux of butting in line, orderings American cheese and no onions and leaving his trash for someone else to pick up(imagine that).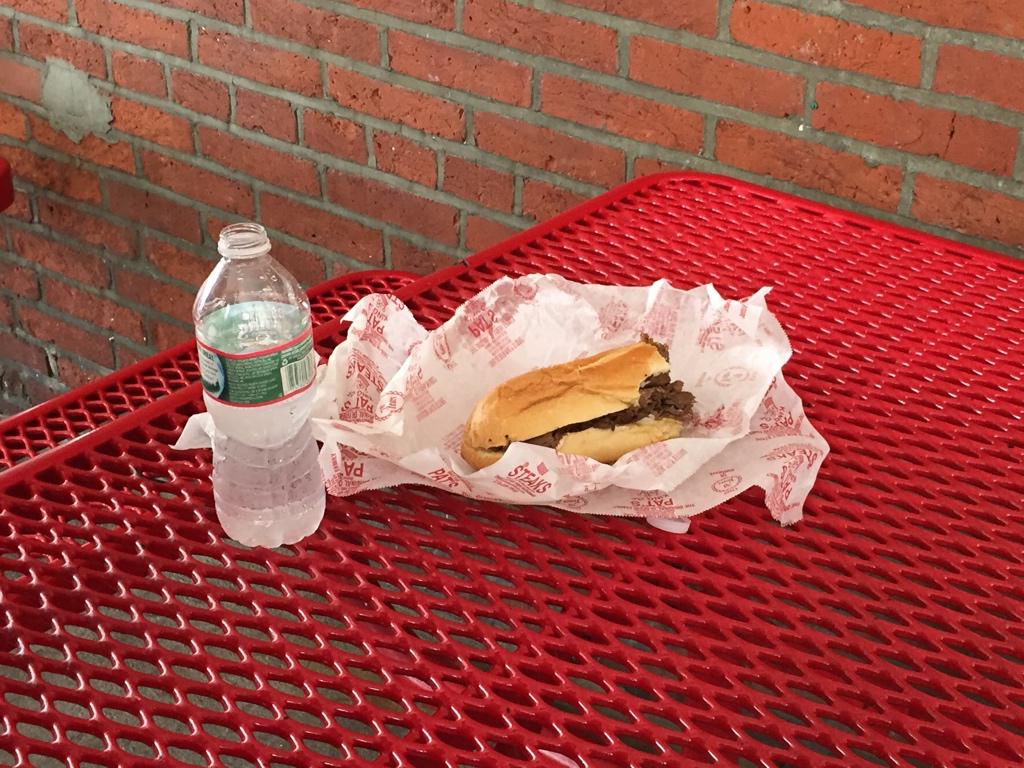 scott walker just gets up and leaves his trash on the outside table at pat's like they have a wait staff
When the real tragedy is, that while Wisconsinites desperately needed leadership and governing, Scott Walker was shirking his duties for his own pride and ambition while children in WI suffered.