By Jeff Simpson
Scott Walker likes to bill himself as the "Harley candidate" and let everyone
know that he is "the real deal",
Wisconsin Gov. Scott Walker is still maintaining his early lead here even as hordes of Republican competitors scour the state. When Walker rolled up recently in black leather for Sen. Joni Ernst's inaugural "Roast & Ride," we were most interested in finding out whether his credentials as a Harley rider would automatically lock down a solid bloc of votes.
The answer? Unclear.
All the optics were working for Walker during the 38-mile ride this past weekend. He jokingly flashed his worn motorcycle gloves and license for reporters to show he was the real deal. He was swarmed by riders looking for a handshake and a word about their shared love of the road. Zipped inside the pocket of his leather jacket was a black polished stone given to him by a veteran that he carries whenever he rides.
But for some riders like Matt Howell, who heads a Des Moines-based Harley group, Walker's love of bikes showed traits that he wants to see in the eventual Republican nominee -- and he said it would be a factor in his eventual decision on who to support.

"If you talk to the hard core supporters that ride, I think that would take it to that core demographic," Howell said.
Scott Walker even calls his Harley "his escape"
.
Walker says his bike is his escape, and says he rides to get away from it all. He insists on riding alone, and says a few nights each week this past summer, he left the seclusion and safety of the Governor's mansion, and headed out to explore Wisconsin's roads – the same roads he traveled last fall as a gubernatorial candidate. The irony of trying to ride away from the recall talk, is that everywhere he rode, he was reminded of it, from his own street, to country roads, as Wisconsin is awash in "Recall Walker" signs, but Walker says he doesn't let it get to him.
"To me, it's just one more thing flying by on the road," Walker said.
Unfortunately for the people of Wisconsin, Scott Walker just can not tell the truth, no matter the subject. Here is a recent pic of Scott Walker's 2003 Harley-Davidson Road King(which he bought in 2008):(
H/T Abe Saue
r)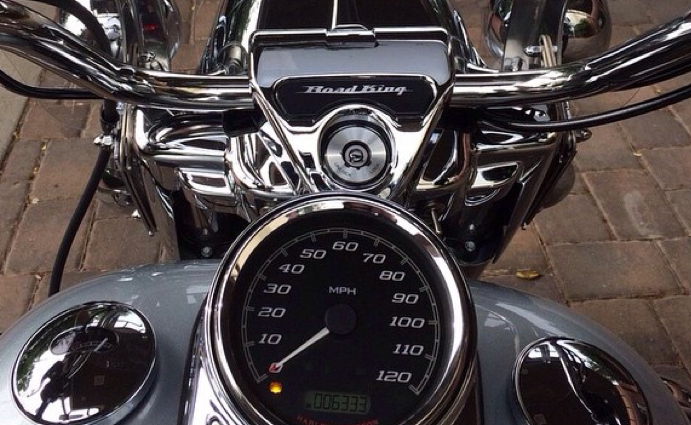 Yes that is a whopping 6333 miles in the 12 year old bike. If he bought the five year old bike with zero miles on it, that means driving his Harley everyday he put a whole 900 miles a year on it.
Vote for him though because he can occasionally be pictured sitting on a Harley.
O and he took down the terrorists teachers, firemen and police officers of Wisconsin also: